Hey everyone!
This next book review is going to be a series. This is the Fallen Series by Lauren Kate and so far there are four books in the series:
Fallen, Torment, Passion,
and
Rapture.
I absolutely love this series and I hope you check it out!
Fallen
by Lauren Kate
Published December 8, 2009 by Delacorte Press
452 pages
There's something achingly familiar about Daniel Grigori.
Mysterious and aloof, he captures Luce Price's attention from the moment she sees him on her first day at the Sword & Cross boarding school in sultry Savannah. He's the one bright spot in a place where cell phones are forbidden, the other students are all screw-ups, and security cameras watch every move.
Even Daniel wants nothing to do with Luce -- he goes out of his way to make that very clear. But she can't let it go. Drawn to him like a moth to a flame, Luce had to find out what Daniel is so desperate to keep secret... even if it kills her.
Dangerously exciting and darkly romantic, Fallen is a page-turning thriller and the ultimate love story.
1.
Fallen
-- Okay, so I read this series when it first came out a long time ago, and have been re reading every time a new book comes out so this time I'm doing a review for the series as I re read them... again since the fourth book in the series just came out. And let me tell you, I have forgotten just how much I adore this book, these characters and this series. It's so intriguing and beautifully crafted where you're hanging in suspense for most of the book, but it's not as irritating as you think it will be.
I love the characters and their complexities, and you still have more to figure out about them in the upcoming books. Everything is not said and done at the end of this book and it's absolutely awesome. I love it and I definitely recommend this as a wonderful read. I also think that despite the fantasy portion, the characters are so relatable. Especially Luce, and I think part of that is her reaction at first to the whole situation is so believable unlike some other fantasy books. I also fell in love with Daniel, and Cam at first!! The detail is so vivid that I can accurately see myself at Swords & Cross. I highly recommend this book and this series.
My rating: 5/5
Buy it: Barnes & Noble or Amazon
Torment
by Lauren Kate
Published September 28, 2012 by Delacorte Press
452 pages
Hell on Earth.
That's what it's like for Luce to be apart from her fallen angel boyfriend, Daniel.
It took them an eternity to find one another, but now he has told her he must go away. Just long enough to hunt down the Outcasts -- immortals who want to kill Luce. Daniel hides Luce at Shoreline, a school on the rocky California coast with unusually giften students: Nephilim, the offspring of fallen angels and humans.
At Shoreline, Luce learns what the Shadows are, and how she can use them as windows to her previous lives. Yet the more Luce learns, the more she suspects that Daniel hasn't told her everything. He's hiding something -- something dangerous.
What if Daniel's version of the past isn't actually true? What if Luce is really meant to be with someone else?
The second novel in the addictive Fallen series... where love never dies.
2.
Torment
-- Here, in the second installment of the Fallen series, we find Luce and Daniel torn apart for reasons unbeknownst to Luce. This of course, makes Luce angry, and sad and lost all at once. She's confused about what is happening and no one seems to be clueing her in. As much as I loved this continuation, I was angry with both Luce and Daniel. Both for their stubbornness -- which is what I would assume draws them to each other. I would have hated to be left in the dark like Luce was and if I were in her position I would have
killed
Daniel. But Luce also did some things without thinking that made me quite mad. She needs to slow down and use her head. I understand her frustration, but without even doing research she jumped into too many things without knowing why she shouldn't.
I thought Shoreline was a good wrench to throw into the plot and I like how we started to see more of Luce and Daniel's past. Normally, i would root for the underdog -- if there is one -- and I don't normally fall in love with a relationship like Luce and Daniel's but I'm enamored with it and I don't want her with the other guy who I would normally root for. I like to see what comes next out of this one especially with where the book ended. There are so many questions left hanging in the balance!!
My rating: 4/5
Buy it: Barnes & Noble or Amazon
Passion
by Lauren Kate
Published June 14, 2011by Delacorte Press
420 pages
Luce would die for Daniel
And she has. Over and over again. Throughout time, Luce and Daniel have found each other, only to be painfully torn apart: Luce dead, and Daniel left broken and alone. But perhaps it doesn't need to be that way....
Luce is certain that something -- or someone -- in a past life can help her in her present one. So she begins the most important journey of
this
lifetime...going back eternities to witness firsthand her romances with Daniel... and finally unlock the key to making their love last.
Cam and the legions of angels and Outcasts are desperate to catch Luce, but none are as frantic as Daniel. He chases Luce through their shared pasts, terrified of what might happen if she rewrites history. Because their romance for the ages could go up in flames...forever.
Sweeping across centuries, Passion is the third novel in the unforgettably epic Fallen series.
3.
Passion
-- So here in the third book of the series, we follow both Luce and Daniel back in time. Luce is desperately searching for some answers about the curse, and reasons to validate the love that Daniel and her share. Daniel is trying to catch Luce, but always ends up arriving too late. Everyone's out to get Luce, as Luce is out to get information. But will she likes what she finds is the question?
I hope this book was major set up for the next one and the next one will be better. As much as I loved learning more about Luce and her past loves with Daniel -- it seemed to drag on. A lot of the journey's were pointless and I kept thinking okay, when will we get to the main idea of all this. The plot twist didn't come until almost the last chapter of the book. I still think it was a good continuation of the story, but as much as you think you learned about the past, there was a lot of things that weren't answered that I think could have been. It's like she likes telling half the story, and I kind of understand the suspense in the first book, but we're in the third now and Kate's
still
holding out on a lot. I need more groundbreaking news to keep me interested! It was light and fun info, and I still liked the book, but I'm hoping that more action and interesting things go on in the next book. I'm dying to know somethings still. If you like this series, I recommend following it through still because I'm still hooked on their relationship and wanting to figure it all out so I'm hanging on til the end so I can do just that!!
My rating: 3/5
Buy it: Barnes & Noble or Amazon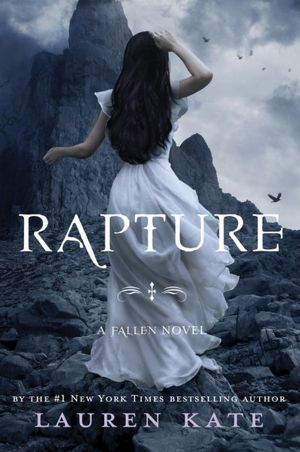 Rapture
by Lauren Kate
Published June 12, 2012 by Delacorte Press
432 pages
The sky is dark with wings...
Like sand in an hourglass, time is running out for Luce and Daniel. To stop Lucifer from erasing the past they must find the place where the angels fell to earth. Dark forces are after them, and Daniel doesn't know if he can do this -- live only to lose Luce again and again.
Yet together they will face an epic battle that will end with the lifeless bodies...and angel dust. Great sacrifices are made. Hearts are destroyed. And suddenly Luce knows what must happen.
For she was meant to be with someone other than Daniel. The curse they've borne has always and only been about her -- and the love she cast aside. The choice she makes now will be the only on that truly matters.
In the fight for Luce, who will win?
The astonishing conclusion to the Fallen series. Heaven can't wait any longer.
4. Rapture -- I KNEW IT!! I knew that the third book was just setting up for an amazing end to the series and Rapture didn't disappoint. I literally just jumped off my bed -- from where I was reading -- and ran to my computer to type up this review as soon as I finished the book!!
So in the final book, we finally understand everything -- which was what I was hoping for!! Her and Daniel, as well as the rest of the fallen angels now have to figure out how to stop Lucifer from erasing the entire past and wiping the slate clean. You finally figure out why all this is happening, and the reason for everything. Kate wrapped everything up nicely and you finally realized why every detail in her previous books were needed to finish up this story nicely. I loved it. I loved, loved, loved this ending. I like how this story was different from anything I have ever read and the story line was totally unique. Yes, it did drag in the third book a bit, but it all worked itself out in the end.
My rating: 5/5
Buy it: Barnes & Noble or Amazon
I really loved this series and I recommend it to anyone!! It's sort of confusing, but it's mysteriously wonderful and you see the author's version of how love began and how powerful love can be. It's a fresh spin on not only fallen angel stories, but young adult books as well. I would encourage everyone to give it a try, you might be surprised. I know I was!!
I selected this post to be featured on
Book Review Blogs
. Please visit the site and vote for my blog!
After reading one of these books one night, I came across two songs that showed up on my iPod that seemed to fit this series perfectly. The first is A Match Into Water by Pierce the Veil and the second is Secret Door by Evanescence (who by the way reminds me of Luce!!) So take a listen!!
A Match Into Water - Pierce the Veil
"She's mine. Just stay away from her it's not her time. Cause I'm the one who haunts her dreams at night, til she's satisfied."
Secret Door - Evanescence
"I will remember how to fly. Unlock the heavens in my mind. Follow my love back through the same secret door."