Day 6: Your favorite authors.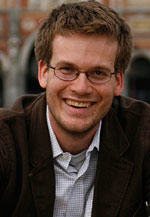 Okay, so by now, hopefully you know that John Green is without a doubt my favorite author. I'm so in love with him -- he's just way to brilliant for words.
Also, I can pull out Cassandra Clare solely for the Mortal Instruments Series. I'm so excited to read City of Lost Souls (currently on my bookshelf) and to start the Infernal Devices Series. Those I will probably get after my birthday (October 5th for all of you that were wondering (; ).
And lastly, I know she's not YA, except for the book that she wrote with her daughter, but Jodi Picoult is definitely up there. I love her books, even if they do have some of the same elements each time. But they have different ideas around them, and Nineteen minutes is one of my favorites of hers!
Who are your favorite authors and what books of theirs should I read!?
Happy Reading!